Manage your entire fleet from one open platform with Geotab's fleet management and tracking system
Easy Plug-n-Play Installation
Accident Detection & Notification
Advanced Vehicle Data Capture
Fleet Management Software
Manage Your Entire Fleet From One Platform
MyGeotab is a web-based fleet management software that is available to all Geotab customers under any feature package: Base, Pro, and ProPlus. See all your vehicle and driver information in one place and use it to make quicker, better-informed decisions for your business.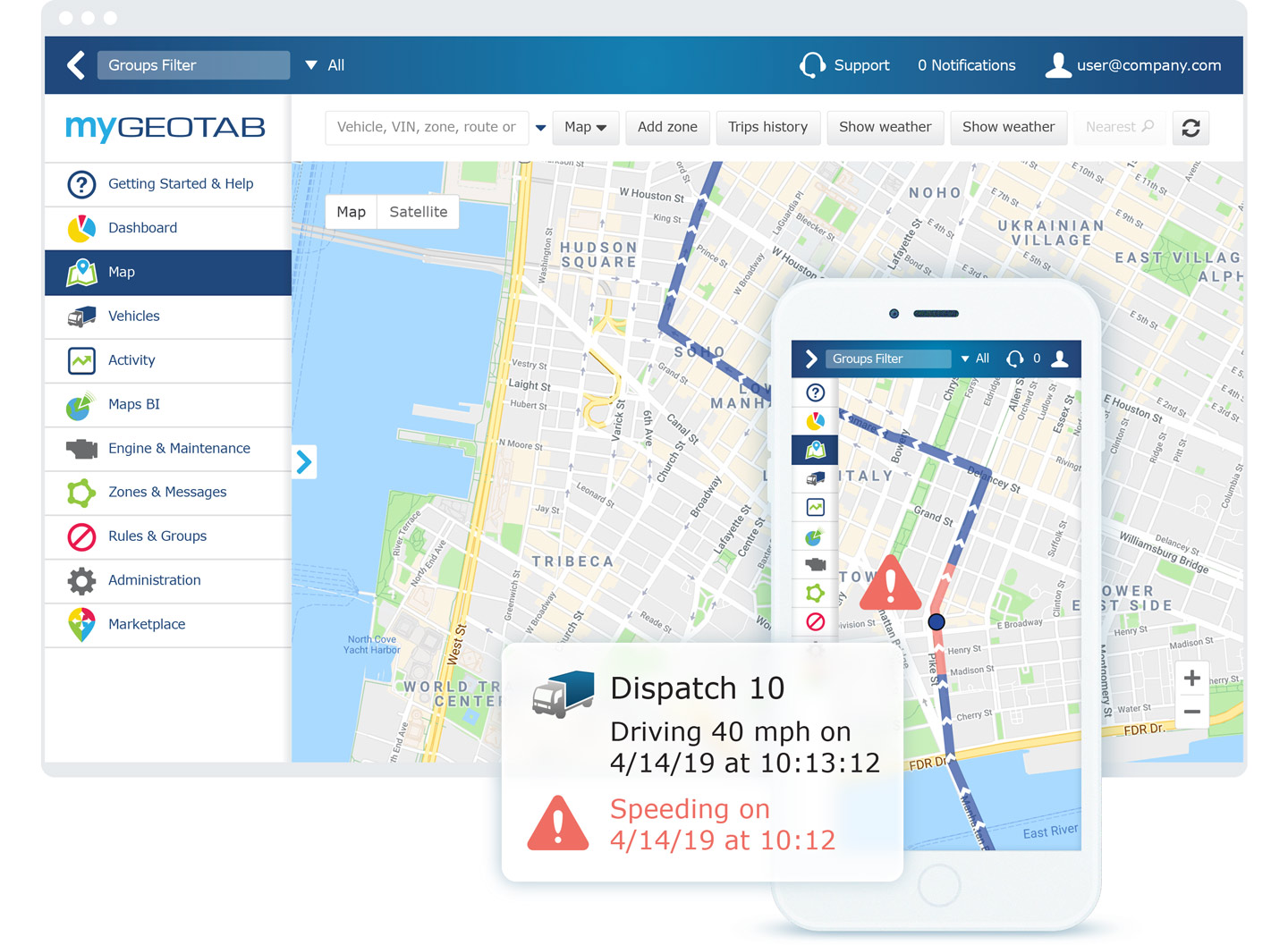 Delivering exceptional services to our valued clients
We are dedicated to providing the best to our valued clients. Our staff is composed of professionally trained people with vast experience in the area.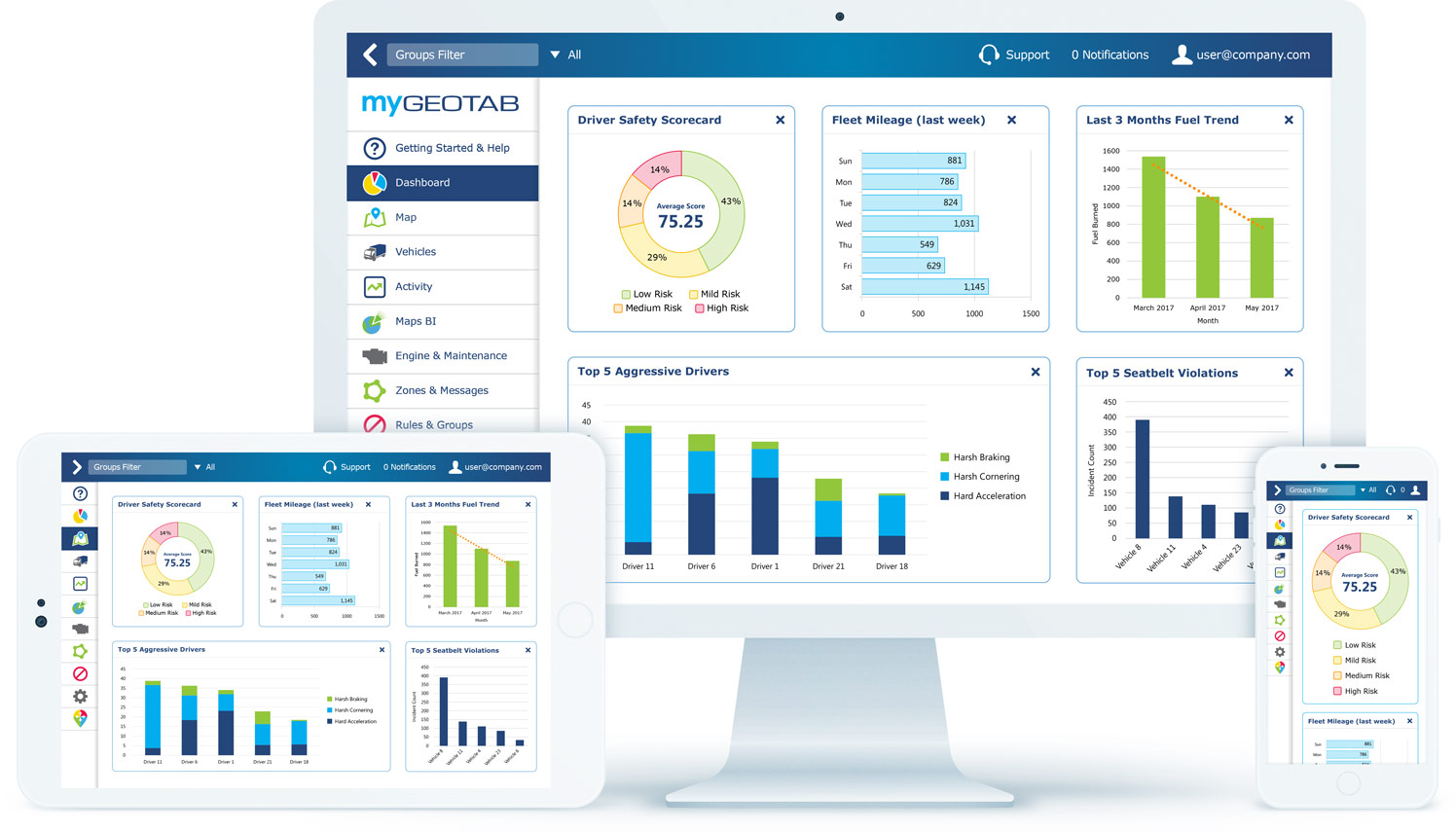 MyGeotab's Software Development Kit (SDK)
Fleets of all sizes have the same software foundation to grow on. With Geotab's fleet management software, businesses have powerful tools at their disposal for generating new opportunities for growth and savings. To extend the value of the data, fleet managers can leverage MyGeotab's Software Development Kit (SDK), customizing the software to meet exact fleet needs.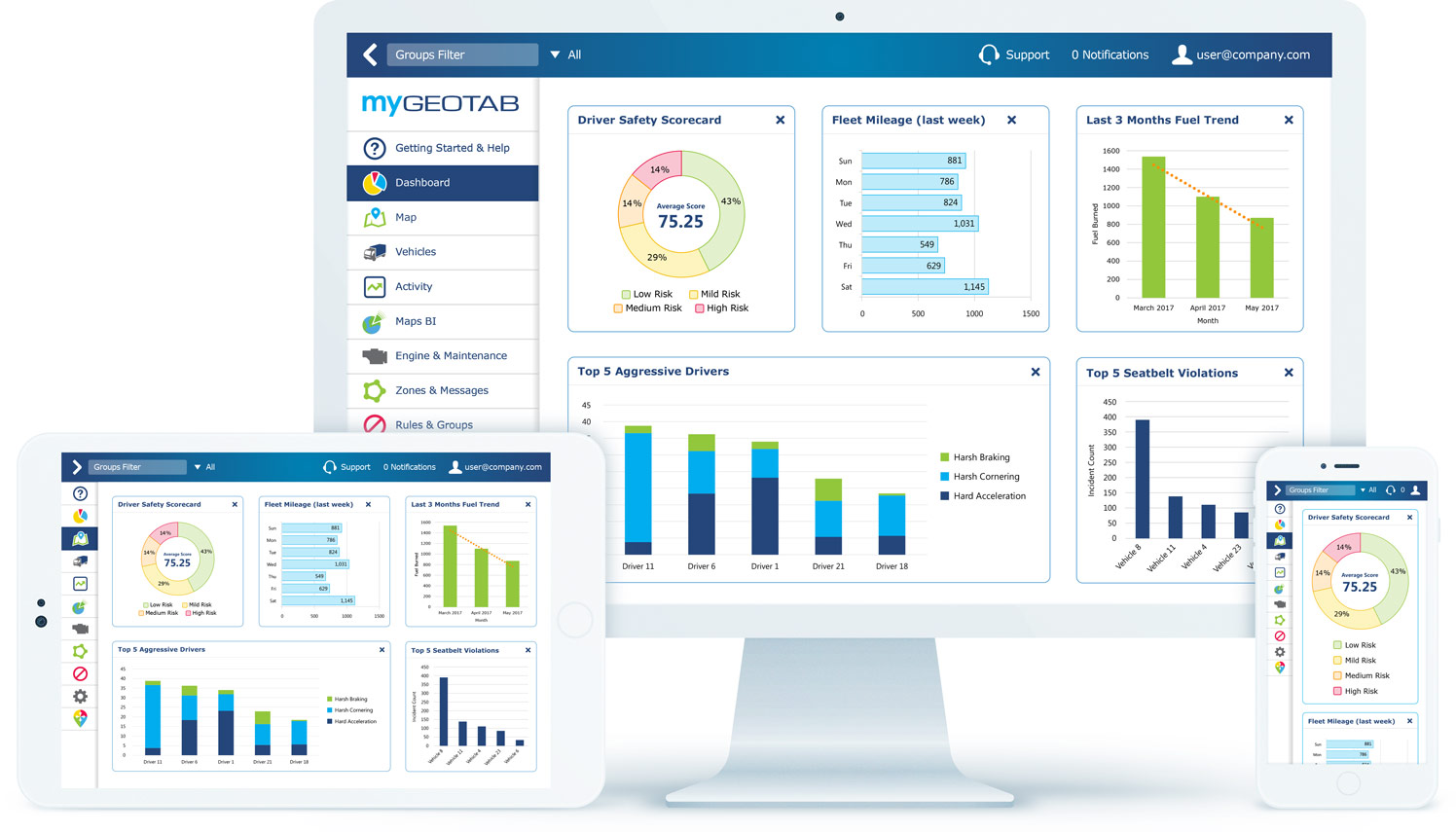 Geotab normalizes the data
Fleet management simplified
Geotab's fleet management software, MyGeotab, takes the complexity out of collecting data and transforms it into useful information that businesses can act on. For example, most Geotab customers want to understand how fuel consumption is impacted by driving habits, time of day spent driving, and the vehicle make and model. Geotab normalizes the data to a common unit of measurement to simplify fuel management. Additionally, MyGeotab is available in 7 different languages: English, French, Spanish, German, Brazilian Portuguese, Japanese, and Polish.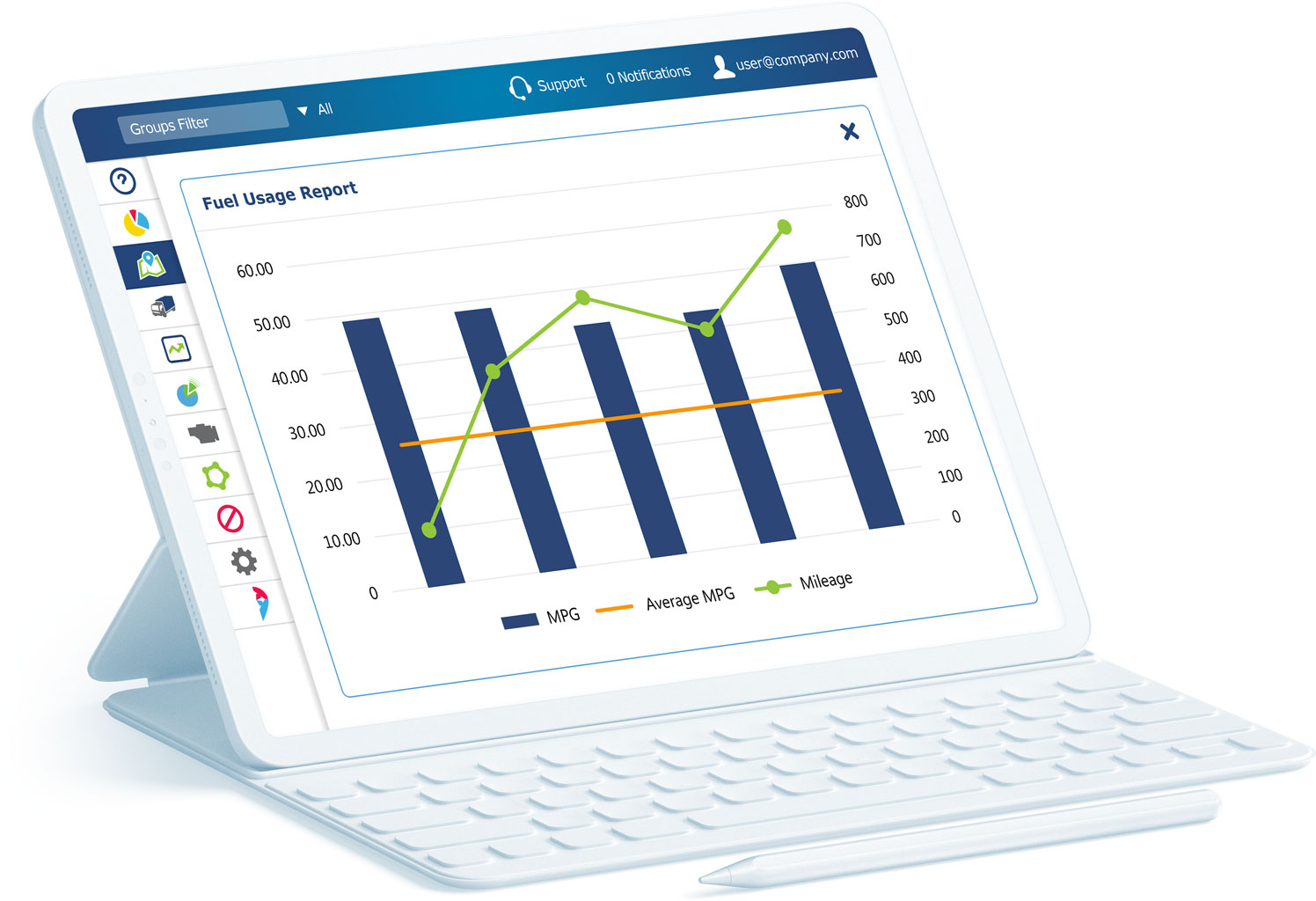 Geotab's vehicle tracking software
Geotab is focused on providing businesses with high-value fleet management data. Geotab's vehicle tracking software incorporates a rules feature that is configured and ready for use with a simple ON selection. Fleet managers can get started quickly by selecting or customizing rules, assisting them in measuring events surrounding five core areas: productivity, safety, fleet optimization, compliance, and expandability. Once a rule is selected, managers can choose from a range of reliable notification options, from email or pop-ups to in-vehicle coaching and alerts.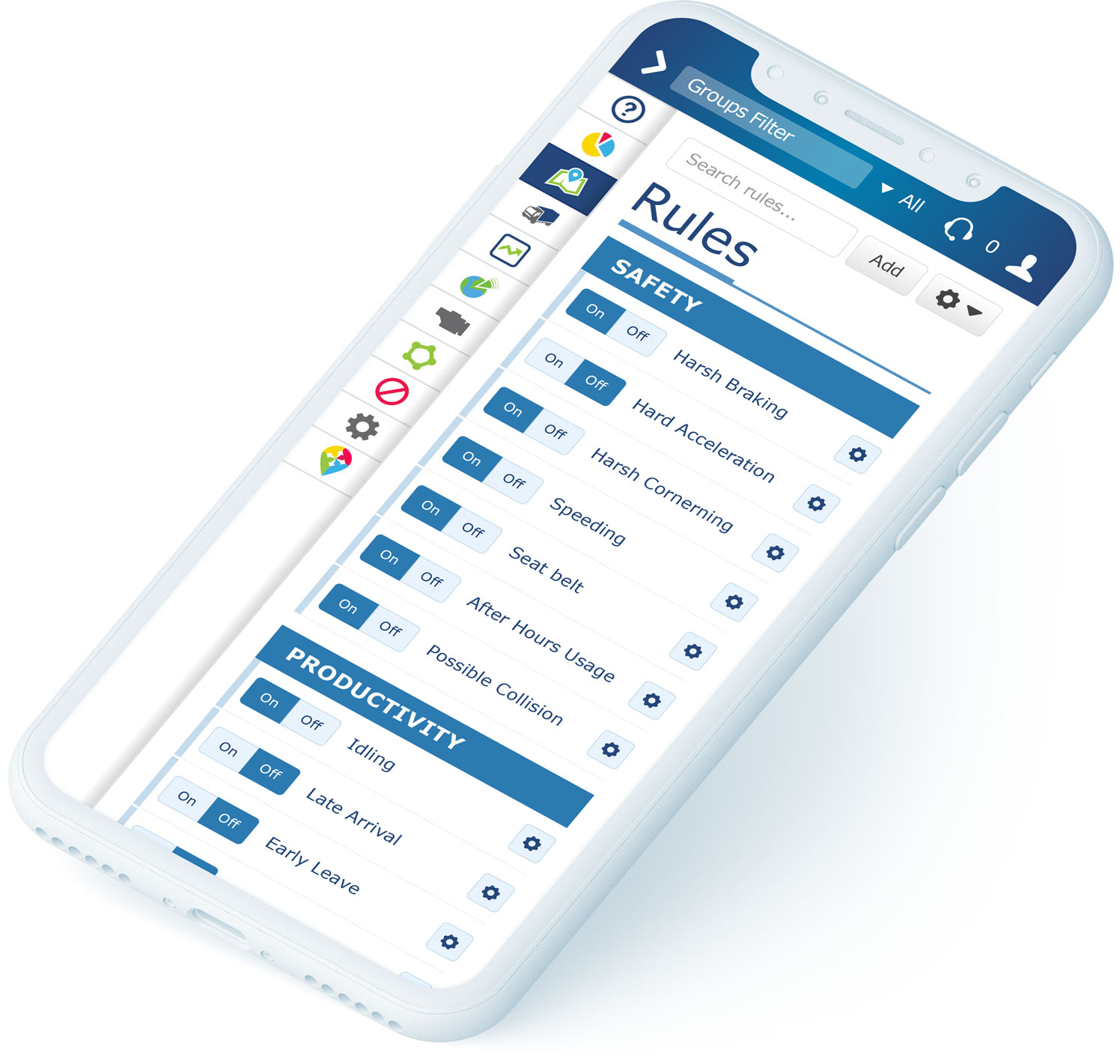 Benchmarking and trend lines
Geotab's benchmarking fleet management reports compare the activity of one group to another to look at idling trends and other items. Benchmarking and trend lines are excellent for businesses to visualize performance. For example, benchmark the MPG of vehicles in different geographic areas to see how driving behavior is impacted by cold or hot weather, or benchmark windshield time of employees in urban centers vs less congested roads to better plan commuting or route time.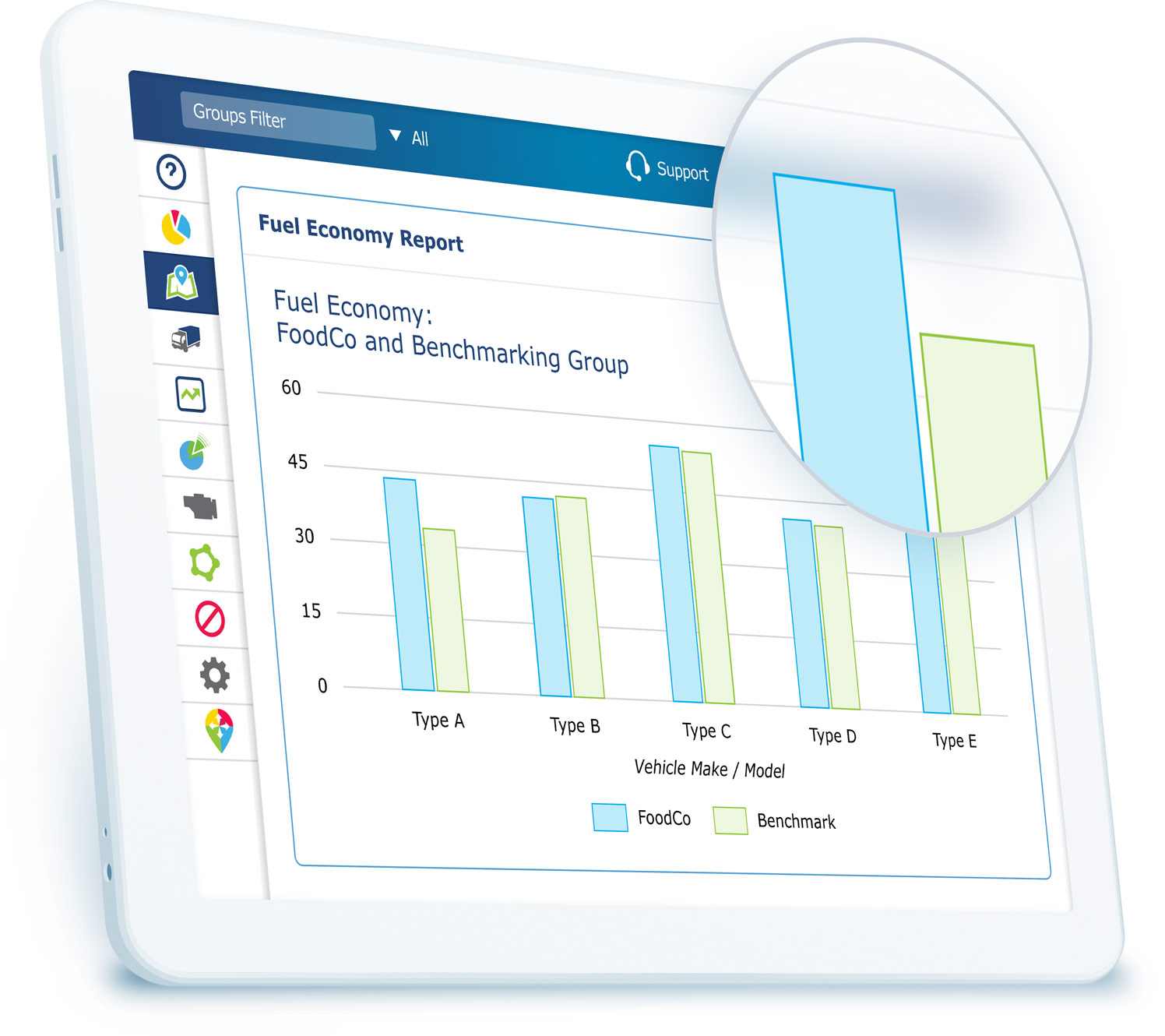 geotab fleet safety management
Geotab GO vehicle tracking device
Lead your fleet into the future with our next generation of innovative real-time vehicle tracking devices with an advanced tracking system.
Analytics and business intelligence tools
geotab fleet safety management
Built to support your fleet now and into the future
Welcome to the most powerful GO device ever. The Geotab GO9 is redesigned from the ground up, featuring a 32-bit processor, more memory, more RAM and a gyroscope. The GO9 features expanded capacity for further native vehicle support, improved fuel usage support, electric vehicles and global expansion
GO9+: Advanced vehicle tracking featuring on-board Wi-Fi hotspot
Take Wi-Fi with you wherever you go. Geotab's GO9+ is the world's most advanced telematics device. Obtain industry-leading insights on fleet vehicle health, trip details, safety and more. Stay connected to high-speed Internet that doesn't drain your data. The compact GO9+ provides everything you need for your office on wheels. Improve efficiency and decrease costs. Stay productive and safe. The GO9+ is ideal for ride sharing, small businesses, heavy-truck fleets and corporate vehicles.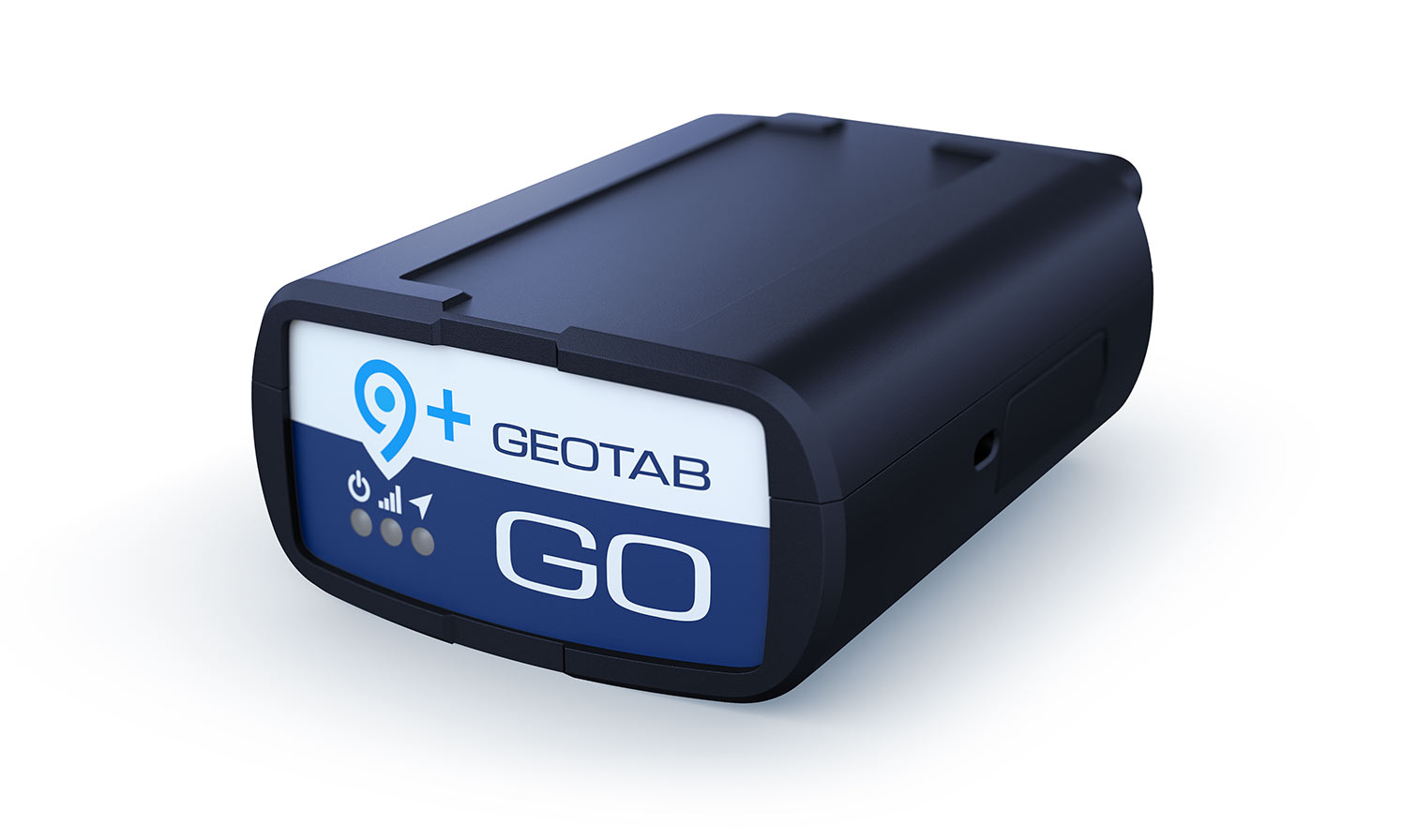 online fleet management platform
IOX expansion: powerful Add-Ons to future-proof your fleet
The Geotab online fleet management platform can be extended even further, at any time, to provide added flexibility and integration with third-party providers. Choose any Add-Ons that suit your needs, such as satellite tracking, driver ID, hours of service (HOS), temperature tracking, camera systems, and more.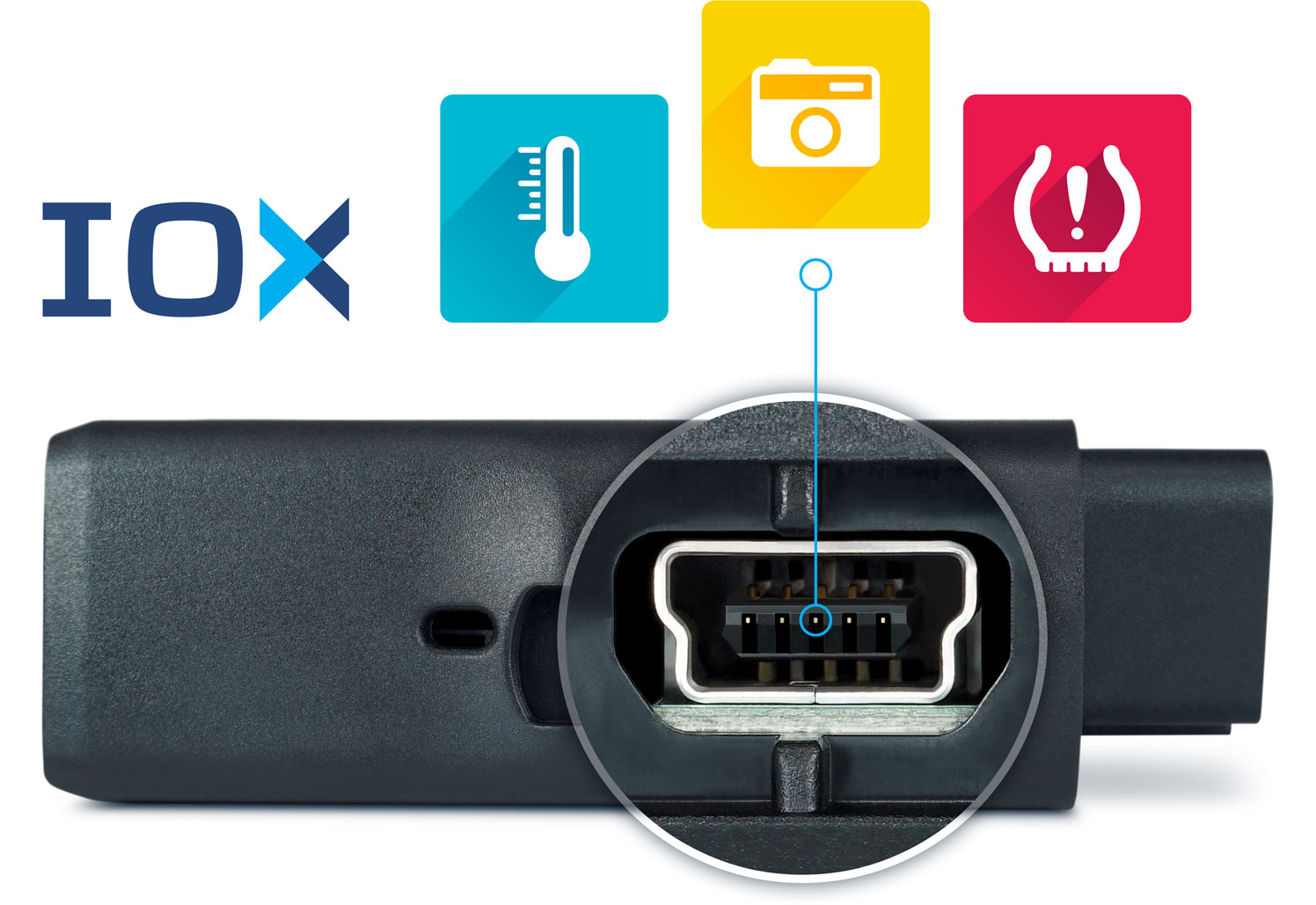 Benchmarking and trend lines
GO9 RUGGED: Rugged and reliable GPS tracking device
Harsh conditions or external installation are no match for GO9 RUGGED. Geotab's ruggedized telematics device is designed for fleets with heavy equipment, yellow iron, farm machinery, powered trailers and assets. It has the same advanced GPS technology as the Geotab GO, with the added benefit of being IP68 and IP69K rated (international standard for protection against intrusion of solids, dust, contact and water).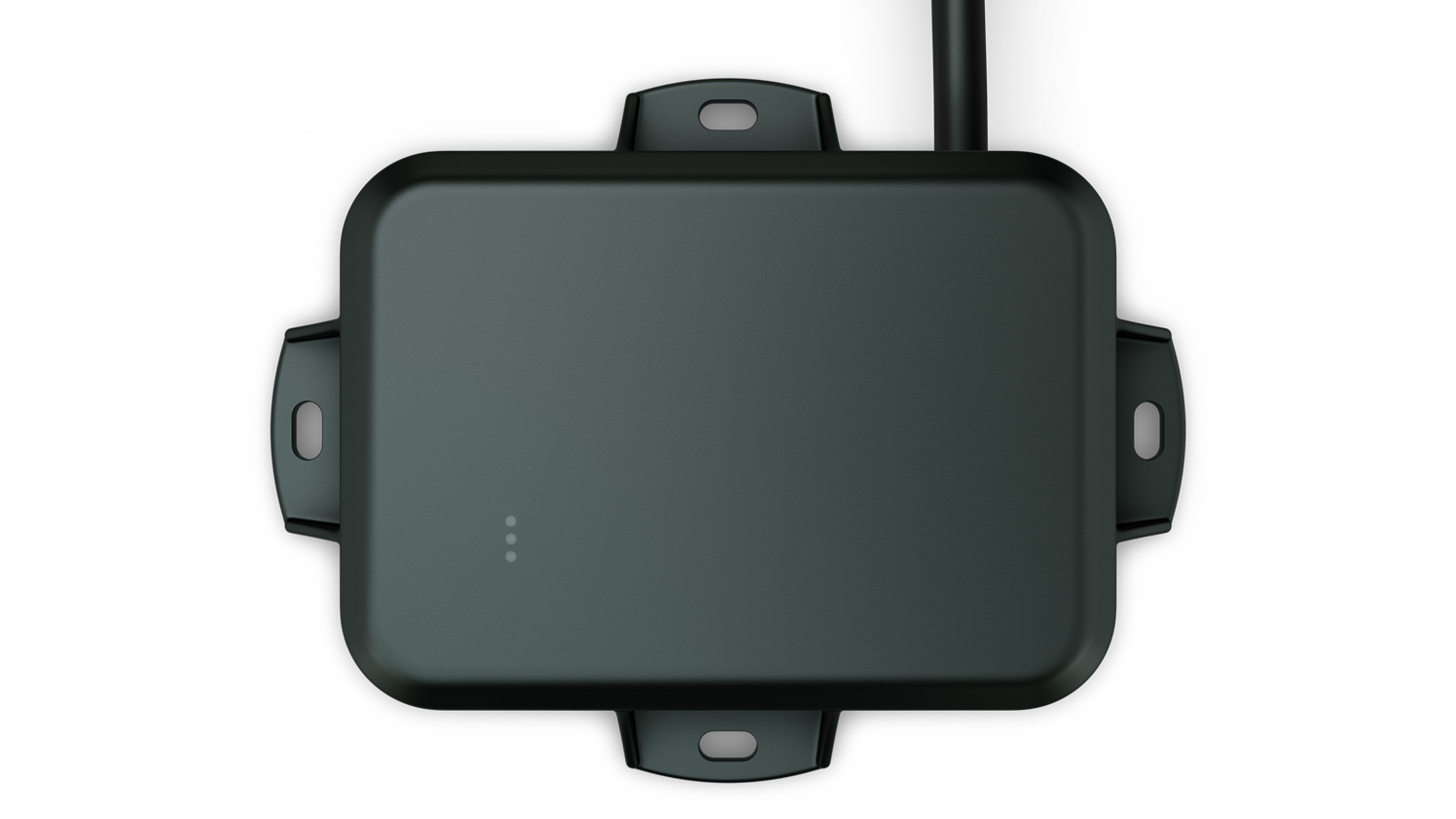 Simple, versatile ELD Compliance Software
Geotab ELD Compliance software for the U.S. and Canada simplifies Hours of Service (HOS), Driver Vehicle Inspection Reporting (DVIR), Driver Identification and Messaging.
This smart mobile app works with the Geotab GO telematics device to help fleets meet compliance regulations, boost productivity and driver safety.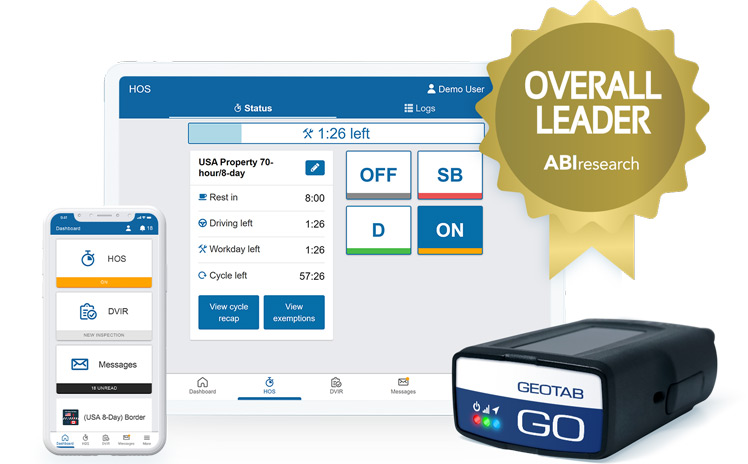 Reduce the risk of HOS violations and errors
Keep accurate logs with reminders for drivers to Log in and Log out, real-time availability and alerts for when they are running low on hours of service (HOS).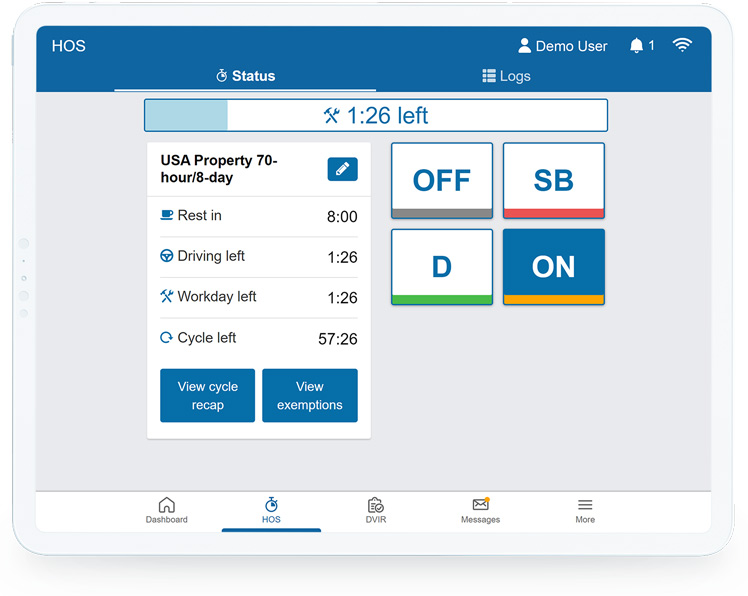 online fleet management platform
Gain peace of mind with Hours of Service visibility
Set up detailed dashboard reports on driver logs and remaining hours and quickly manage unassigned logs.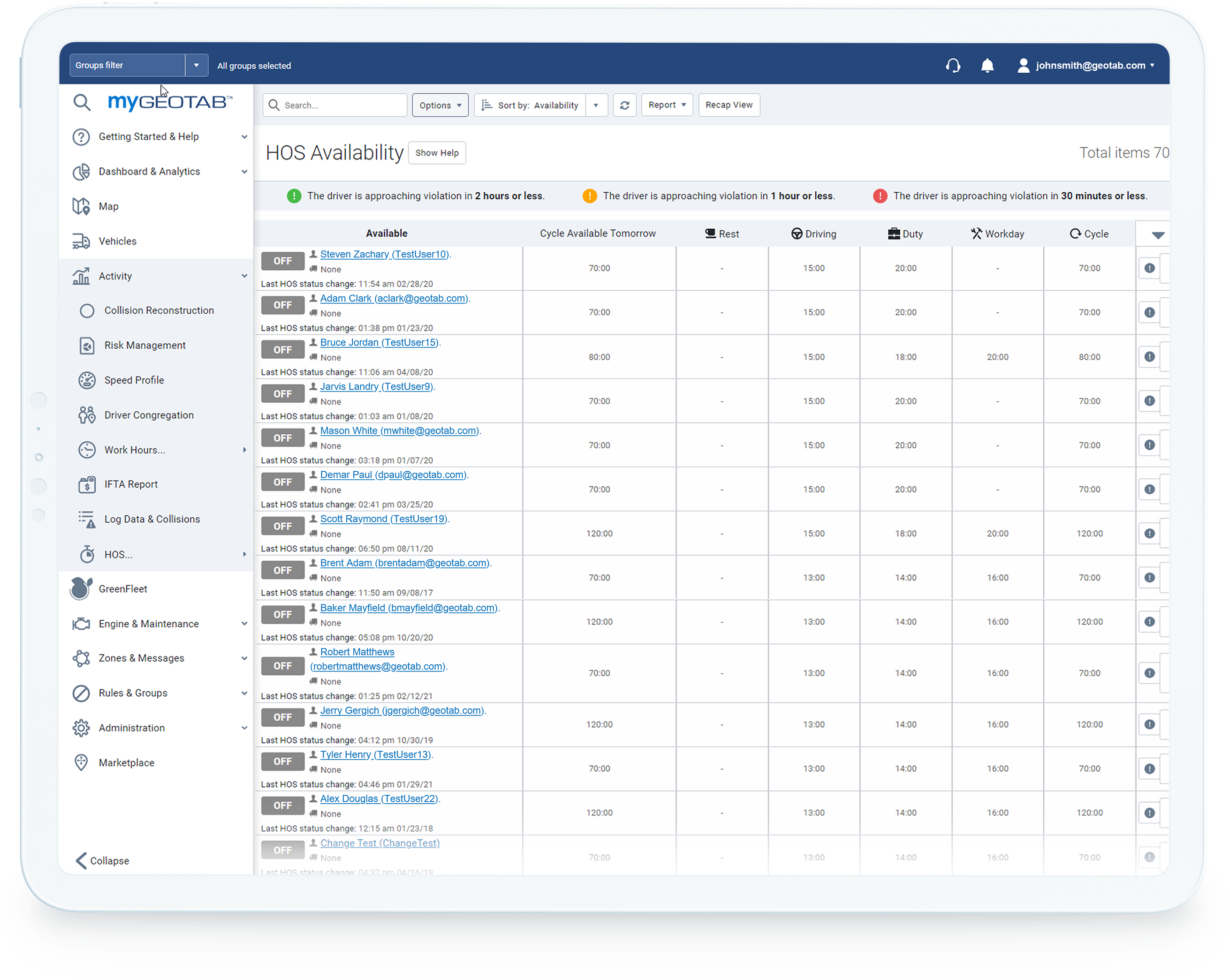 Simplify driver vehicle inspections
Help drivers complete vehicle checks with workflows for pre and post trip inspections in the U.S. and Canada. Set up rules for real-time alerts when defects are found or inspections are missed.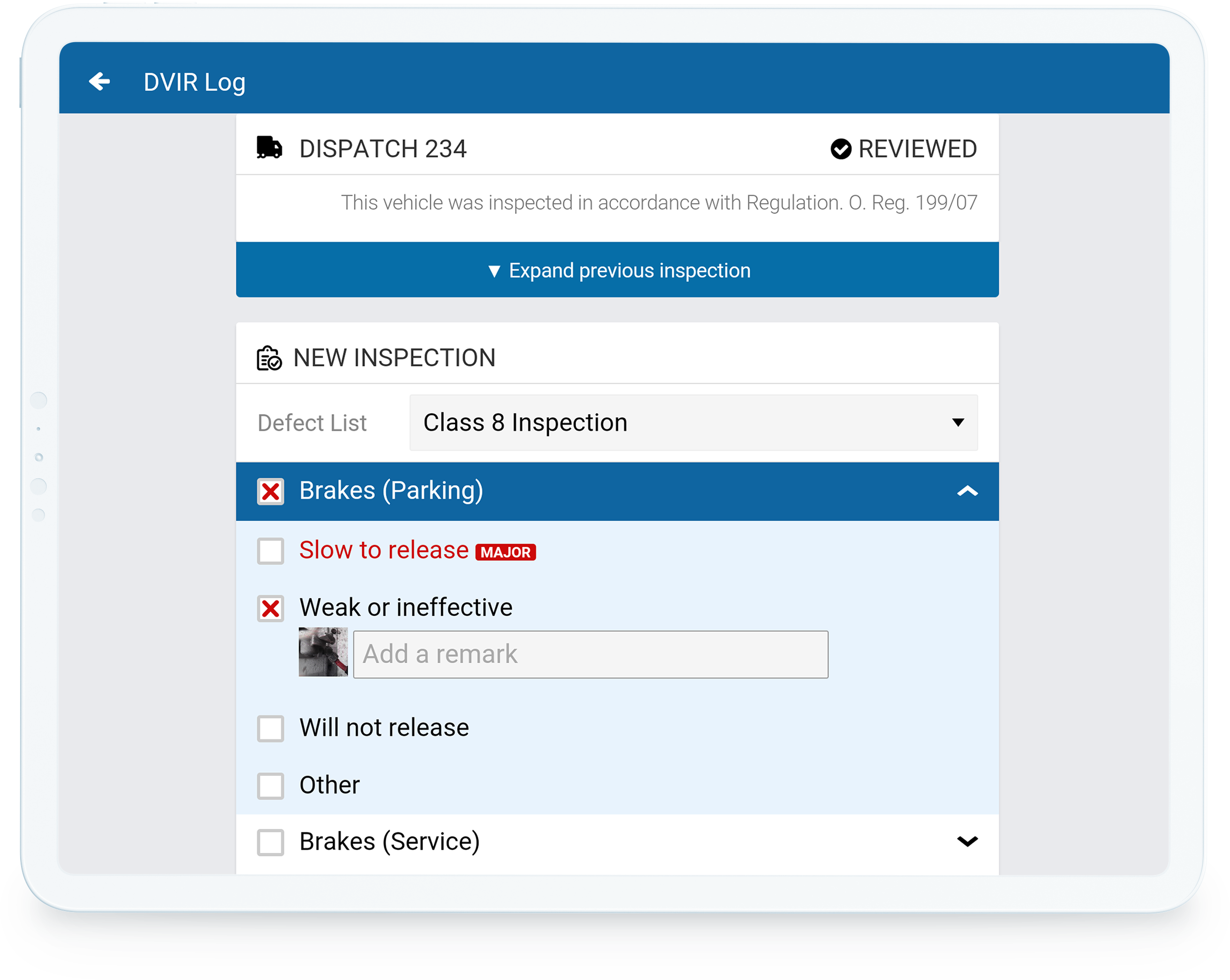 Boost productivity with messaging in your ELD app
Using the Geotab Drive ELD app messaging feature, send direct messages to a driver or vehicle to make sure the right person gets the message. Attach hyperlinks, routes, zones, or automatically send a personalized message when a custom rule breaks.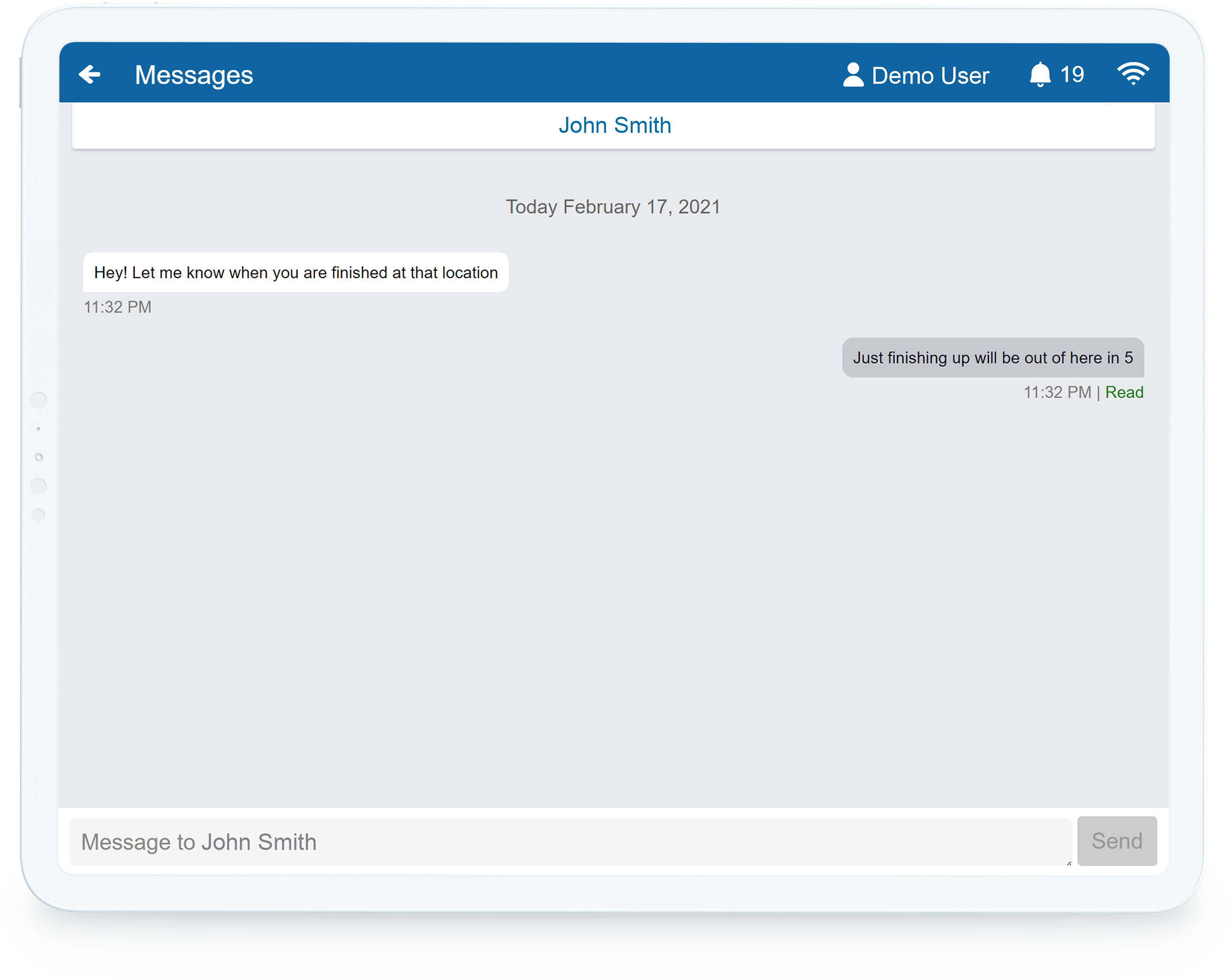 geotab fleet safety management