GPS Fleet Tracking that is simple to use, affordable, and powerful enough to run any size fleet
From small business to enterprise, Azuga's fleet management platform is the best solution to keep track of drivers, improve safety and protect all your assets.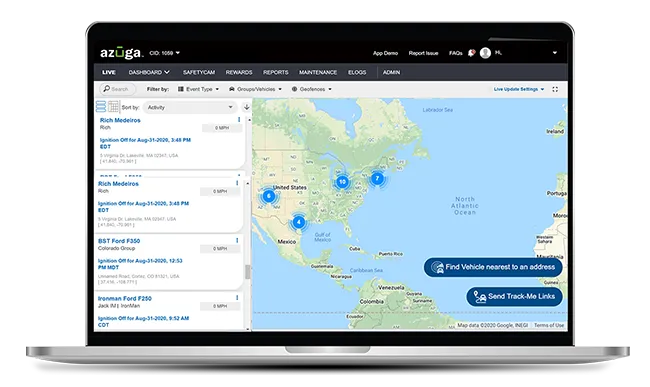 Affordable GPS Fleet Tracking Solution that delivers. Switch to Azuga and save money, while getting more functionality for your fleet of vehicles and drivers.
From safety to savings, Azuga Fleet Tracking is good for your drivers, customers and vehicles - and great for business
Real-time fleet tracking is as simple as
Easy Install: GPS Tracker
Simply plug the Azuga GPS Tracker into the OBDII port in each vehicle and capture all vehicle diagnostic data and driver behavior instantly and easily. No costly installation services required, and no downtime needed. View specs.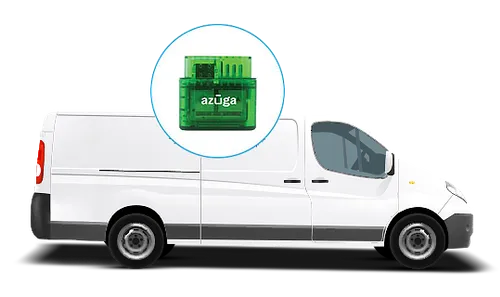 Log into Azuga Fleet GPS tracking software and gain instant insights and visibility into your fleet operations. You'll get useful analytics on the whole fleet, from safety, accountability, and driver rewards to vehicle maintenance and fleet efficiency.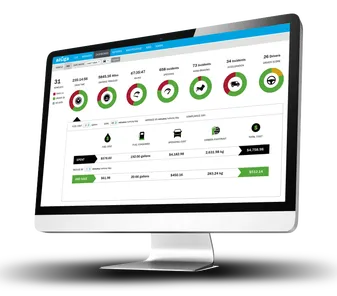 Arm your drivers with Azuga Fleet Mobile, and keep your fleet rolling efficiently—from start to finish of every shift. Drivers can track safety scores, simplify timecards, log trips, and limit distractions while on the road. Fleet managers can reward safe drivers for a job well done, even when they're out of the office.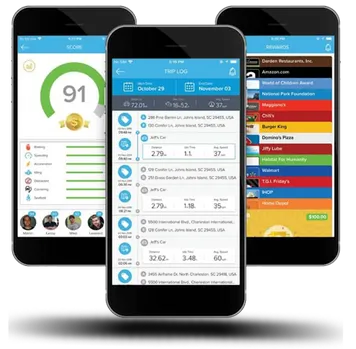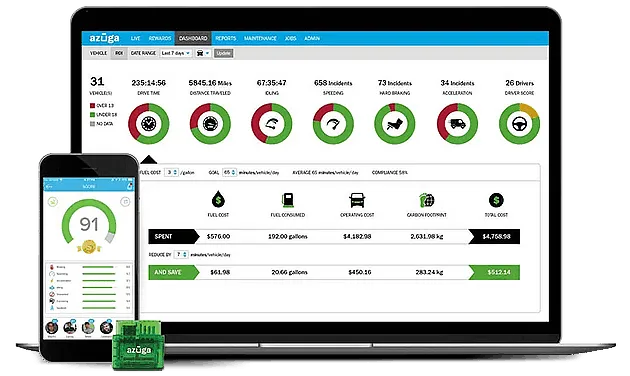 Improve safety. Gain accountability.
Count on the GPS fleet management software that's built for safety
Take advantage of information—such as speeding, hard braking, cell phone distractions, and service warnings—to keep both drivers and vehicles performing at their best.
Add DriveSafe and block smartphone distractions—such as texting, calling, and app use—when the vehicle is in motion.
When a driver uses FleetMobile, data is captured from every vehicle he or she drives, creating a comprehensive trip log. Trips can also be tagged as business or personal, allowing you to separate out the daily lunch run from work-related trips.
In today's world, data and analytics are crucial tools for any business. With our diagnostics, valuable information is captured every time your fleet is dispatched. Use it to maximize efficiency, reduce operating costs, and reward top drivers.
Tire Pressure Monitoring System (TPMS) in your vehicle monitors the tire's air pressure continuously and alerts drivers when the pressure varies from the recommended level. TPMS is primarily designed for safety purposes. Underinflated or overinflated tires lead to a less stable ride and a higher risk of blowouts, making driving unsafe. Whenever this occurs, it will trigger an alert to the driver that the tire (or tires) needs to be inflated to the appropriate level.
Schedule calls, assign team members, and send automated dispatch notifications. Check status, duration, drive time, and miles traveled for every call.
Use the live map view to see where your fleet is at all times. Job, driver, speed, location, and weather information is available instantly.
Get the most out of every vehicle.
Add Scheduled Maintenance and receive vehicle alerts instantly, enabling your service team to perform maintenance work before a costly repair is needed.
Capitalize on insightful reports.
Gain a deeper understanding of vehicle usage, operating costs, and driver performance with reports that help you optimize fleet operations. Need custom reports? We provide them free of charge.
Optimize efficiency.
Capitalize on reporting.
See how GPS Fleet Management Software with fleet tracking improves operations fleet-wide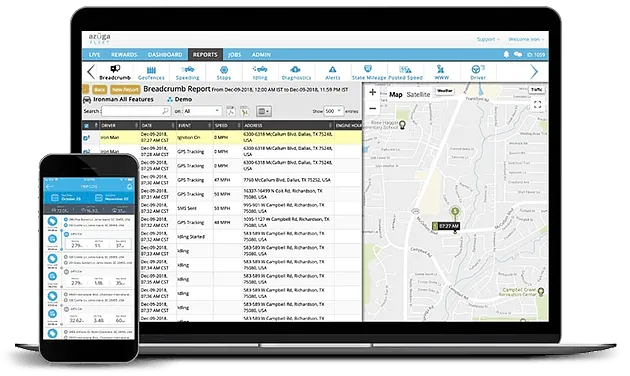 You get a feature-rich fleet tracking driver app with a powerful admin view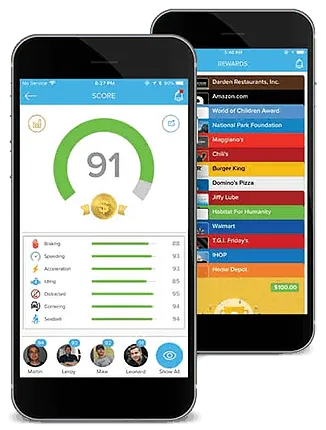 Great drivers are invaluable—reward and retain them. Fleet features a rewards program that's easy to administer, and drivers love.
Recreate the scene to learn valuable insights
Analytics and Data Visualizations
Empower fleets to have data-driven conversations with their risk control team.
Leverage risk assessments with history for future planning and decision making
Understand driver behaviors and how they related to increase risk of fleets
Your drivers are an integral part of your business, but they're not the only part. GPS tracking software can improve operations on the road and beyond. Azuga Fleet can help with dispatch, maintenance, compliance, training, and so much more. It can even help you lower your insurance premiums.
Leverage a range of built-in utilities, such as vehicle health monitoring, navigation, tracking, parked vehicle location, and third-party apps.
Monitors the tire's air pressure continuously and alerts drivers when the pressure varies from the recommended level.
Capture the data you need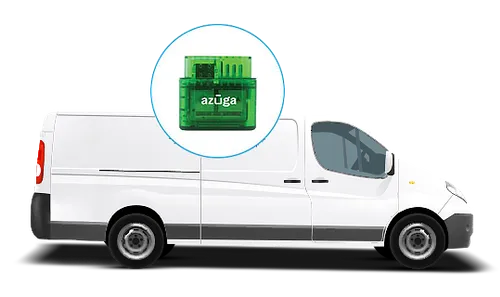 Customizable Fleet Reports and Dashboards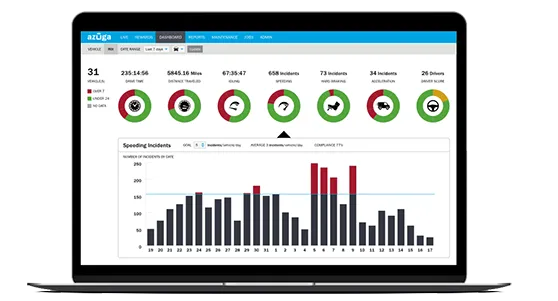 Breadcrumb
This report helps you track a vehicle throughout the day. View each vehicle's movement and events, point by point.
Geofence Duration
Learn when vehicles enter and exit a geofenced area and how long they stay there.
Speed
See which vehicles exceeded the speed limit as specified in your Speeding Alert settings.
Stops
Learn when and where stops were made, and if stops were made near a known landmark.
Idling
Idling is one of the biggest fuel wasters. See how long a vehicle idled, where it idled, and if it idled near a known landmark.
Diagnostics
See the number of Diagnostic Trouble Codes (DTC) reported by vehicle; drill down to view more detail about the code(s).
Alerts
View fleet-wide alerts like over or under-inflated tires, in one place, eliminating the need to sift through emails to find alerts.
State Mileage
See how many miles a vehicle has been driven by state.
Posted Speed
Speeding is one of the worst dangers of driving. Based on posted speed limits, see when and where drivers were speeding.
Who Was Where
This is the ultimate vehicle tracking. Find out where a vehicle was on a specific date or which vehicles were at a specific address.
Driver History
Link your drivers to the vehicles they drive—view vehicle-to-driver associations, including miles driven by each driver on each vehicle.
Driver Score
View drivers' scores based on individual performance and relative to other drivers. Use this report to push rewards to drivers.
Time Card
View shift and payroll information provided by drivers via the Azuga FleetMobile app. Shift reports can be exported for further processing.
Scheduled
Schedule reports to run and send automatically. Team members receive reports, via email, with PDF or Excel files attached.
Custom Reports
Need custom reports? No problem. We'll set them up for you whenever you need them.
GPS Fleet Tracking that is good for drivers. Great for business.
Today's fleets need a fleet GPS tracking device system that will monitor drivers without making them feel like Big Brother is watching. Our GPS tracking software turns safety into a game, letting drivers compete for the best safety score in the fleet and beyond. This means more buy in from your drivers, and fleet management software that promotes a culture of safety on the road.
Smith & Solomon
"We've tried a lot of fleet tracking solutions and none of them could beat Azuga at its combination of amazing price, easy reporting features, and reliability. We're still learning new applications for all that Azuga can do. It has everything we were looking for and is the best bang for our buck."
Fleet Director, Smith & Solomon
Earthtech Landscape
"GPS vehicle tracking technology has been around for a long time. Every time we looked at it we were faced with expensive hardware and software costs, inaccurate data on idling and fuel consumption, painful installation scheduling, and lengthy contracts. Azuga made it a no-brainer. At just 70 cents per vehicle per day, Azuga helps save money from day one."
Northwest Tank
"Azuga GPS device is next-gen GPS. It's easy to install, portable between vehicles and provides valuable business insight into asset tracking, fuel wasting behavior, vehicle maintenance schedules and driver performance. We recently switched to Azuga from a hard-install GPS provider and are delighted at the results."
Numotion
"Azuga has been everything and more than expected, creating a highly engaged workforce, empowering each employee to modify his/her driving behavior in real-time."
Why Azuga is the choice of small and enterprise fleets
ANNUAL MILES OF DATA COLLECTED
MILLION TRIPS TRACKED ANNUALLY
GPS Fleet Tracking that is good for drivers. Great for business.
Choose one or more add-on features and do even more with your Fleet.
Get access to vehicle data like seatbelt usage, fuel levels, odometer mileage, throttle position and more on supported vehicles.
Tag trips as business or personal and capture details, including starting point, destination, stops, locations, distance, speed, and idle time.
Reduce vehicle downtime and costly repairs by planning, viewing, and managing vehicle maintenance.
Get access to vehicle data for electric vehicles like battery level, charging status, and more. Plus, get access to tire pressure, oil life, and door lock and unlock on newer ICE vehicles (2015 and newer).
Fuel is the highest cost for almost every fleet in the business. Reduce expenses by directing drivers to the closest gas station, in their vicinity, with the cheapest fuel.
End poor driving habits with training solutions tailored to fit every driver Delivered through Azuga FleetMobile, Azuga Coach is a comprehensive selection of online safety training videos  for drivers to promote better driving habits and reduce fleet crash rates.
Know when, where, and under what driving conditions speeding occurs, relative to the posted speed limit. This dynamic solution reduces speeding across the board.
Tire Pressure Monitoring monitors the tire's air pressure continuously and alerts drivers when the pressure varies from the recommended level.
Get the latest insights on GPS vehicle tracking solutions and fleet management.
Vehicle Tracking: What Is the Cost of Skipping Out?
Learn what you can save by equipping your fleet with vehicle tracking. We'll break it all down here.
Four Benefits of Using Geofencing
Learn how your fleet can take advantage of geofencing to get the most out of your fleet tracking solution.
Upgrade to our NEW SafetyCam AI Edition with Live Streaming and Real-time Driver Distraction Alerts
80% of car crashes are attributed to distracted driving. Take the next step and elevate your fleet's safety.
The AI dash cam is equipped with multi-sensor HD cameras providing fleets with access to live and recorded video evidence of harsh driving incidents. Using state-of-the-art artificial intelligence and computer vision, this dashcam detects distracted driving, unsafe driving behaviors, and assists drivers with real-time audio and visual alerts.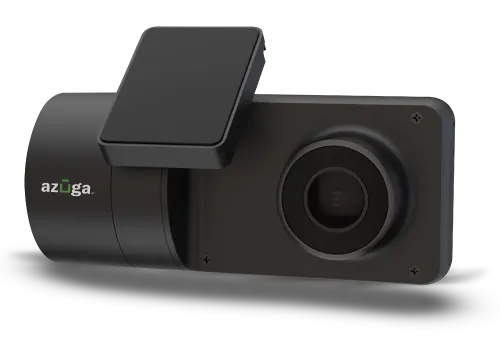 Stand by your drivers from anywhere.
When every minute counts, get the story straight in just seconds. View SafetyCam videos on Azuga Fleet from your smartphone, the instant they upload. You'll have the answers you need, when you need them, right in the palm of your hand.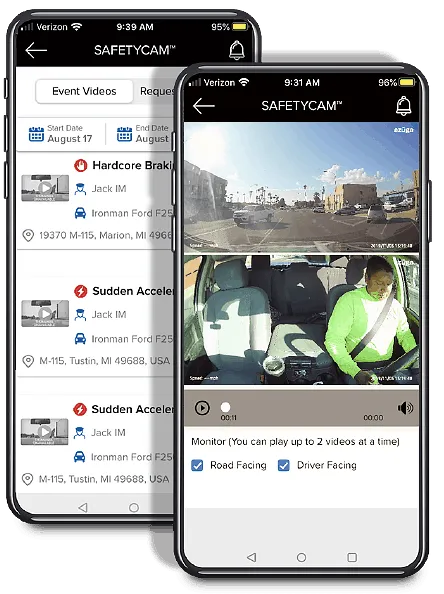 Arm your drivers with Azuga Fleet Mobile, and keep your fleet rolling efficiently—from start to finish of every shift. Fleet Mobile is our innovative app that integrates with all of our technology to provide you with a comprehensive safety experience. Drivers can track safety scores, simplify timecards, log trips, and limit distractions while on the road. Fleet managers can reward safe drivers for a job well done, even when they're out of the office.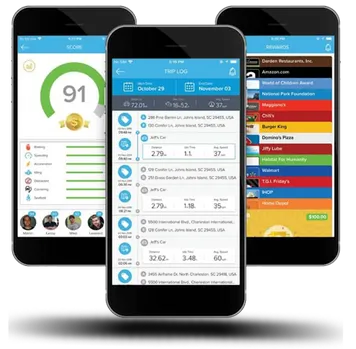 LIVE View streaming capabilities of the road and driver simultaneously

Distracted Driver Detection with facial recognition technology that works during the day or night

AI Driver Assistance provides real-time audio feedback and visual warnings for dangerous driving events

Connect up to 3 auxiliary cameras for side and rear views

On-Demand Video retrieval from the Azuga cloud

Parking Mode: Built-in battery automatically turns the camera on when sensing harsh movement like vehicle break-ins

WiFi HotSpot built-in to easily connect all your devices

Safe and Secure: Privacy control with permission and role settings for data and user access

○ FCC, GDPR, and PTCRB compliant
○ Data Security & Privacy monitored 24/7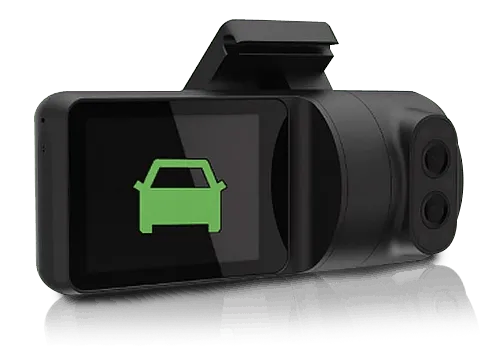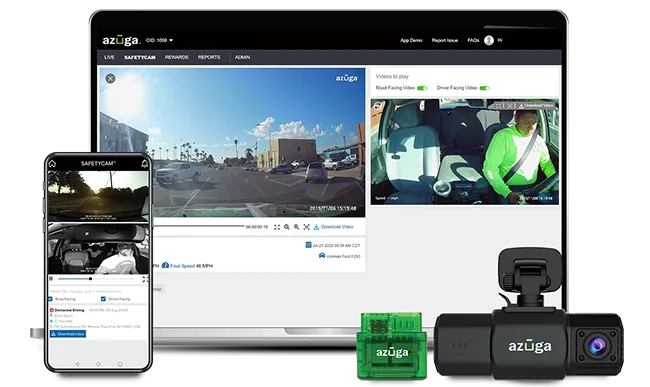 Improve driver safety with the dual-facing dashcam, bundled with GPS fleet tracking, at a price you can afford.
See what unsafe driving could cost you:
*Source: https://www.constructionequipment.com/true-costs-fleet-accidents
Simple yet powerful, the smartest fleet dashcam is there when you need it.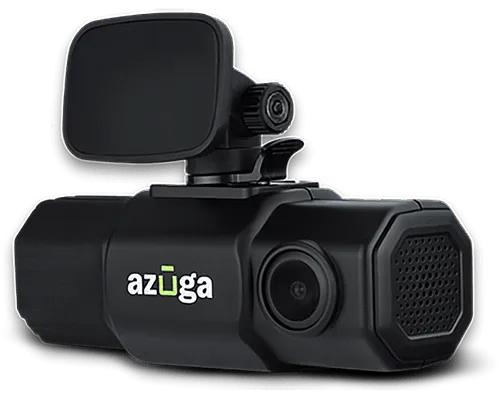 Recommended Fleet Tracking Software Resources
See how Azuga Fleet pays off.
You can also use our ROI calculator to calculate the return on investment for your fleet. It's a simple two-step process. First, tell us general information about your fleet, including how many vehicles you have, how many miles a day your vehicles travel, and how many hours a day your vehicles travel. Then tell us about your business, including your hourly billing rate and how many billable hours your vehicle is driven. Then, you can find out how much you'll save in just the first month and how much you'll save in overtime. We'll email you your results right away. On this page, you can also view how we'll benefit your fleet's idling, speeding, hard braking, and reduce vehicle breakdowns based on your industry. You're sure to be impressed with what you can earn with Azuga's services, so find out today with these simple steps!
Azuga Fleet is a Leader in all categories